I was recently given the opportunity to review some earrings from Anjolee. They have so many great options when it comes to jewelry. You can get custom jewelry when you shop with Anjolee. I chose some beautiful
diamond earrings
. The ones pictured above are their
channel set diamond hoop earrings
. These are the beauties that I received. There are not only many styles to choose from, but you can also pick the size, metal and on some styles the type of gemstones as well. I personally love that you can choose the metal you want. You can pick from white and yellow gold and also platinum. I am a fan of white gold, so that is what I went with. So for example - if you wanted to order these earrings in yellow gold you can select that option on their website. You can also preview what that would look like as well. That way you know exactly what you're getting. You can see these exact earrings in the photo below, but in yellow gold. I wanted the earrings in the smallest size, but you can also get them larger if you want. You also have the option of choosing your diamond quality. This is serious customization at it's best! Anjolee provides high end diamond jewelry at great prices.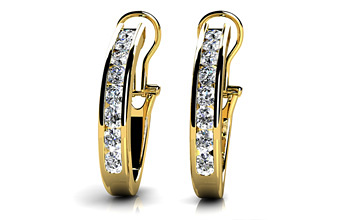 What did I think? I love my earrings from Anjolee. I enjoyed being able to pick the size and color metal on my
hoop earrings
. I think it's very important to have exactly what you want when you are buying nice jewelry. Anjolee has made that possible. The Channel Set Diamond Hoop Earrings are comfortable too. You can tell that these are a quality product. I like that the posts are sturdy. They are also easy to put on. I get annoyed when earrings are hard to put in and figure out the clasp. The whole experience of ordering from Anjolee is fun and much more personal than I've had with buying jewelry previously.
These would make a great present! If you have someone that is very picky about what they like then this would be a great option! You can order exactly what you want. One thing that I really love is that because of the amount of options there is something for all types of budgets.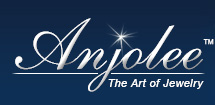 Anjolee also offers many other types of beautiful
diamond hoops
, These can all be customized to your liking. If you are interested in other diamond jewelry
Anjolee
offers that too! You can have your own unique jewelry that is different than the rest!
Disclosure - I received a free sample to facilitate my review. All opinions are completely my own. No monetary compensation was provided. I am
disclosing in accordance with FTC 16 CFR Part 255.