I am a shoe addict. I admit it, but who doesn't love a cute pair of shoes? With Fall coming I am always on the lookout for great boots. I only recently started wearing boots more last year. It doesn't get super cold where I live, so I honestly don't need them. I will say that I love the way they look though. I came across some adorable boots offered from Midnight Velvet.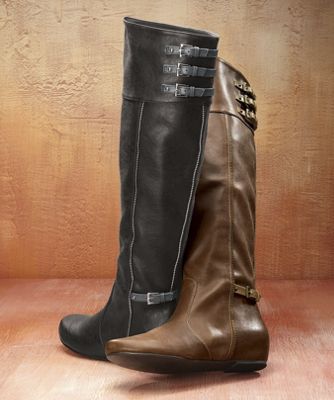 I fell in love with the
Avery Boots by Restricted
the minute I put them on. I chose the black color, but they also come in a brown too that is really pretty. It's almost like a chocolate brown. The boots are really great to wear with a number of different things. I have been wearing skinny jeans and I love these boots paired with them. They look great. I actually wore them the other day to pick up my kids from school. In the short time I was out I got 3 compliments on how cute they were. I know that I will be wearing them often. I can also see that they would be really adorable with a skirt or dress too. The boots come just above my knee. They are a great length. However, I am only 5 feet tall, so depending on your height they may not come up that high on you. I love the look of all the buckles and the zippers on the boots too. They really are a lot of fun. I wanted to share something else with you that i love about these boots. They are a flat boot, but on the inside of the
Avery Boots
is a hidden 1 inch boost platform. Those of you ladies that can use the extra height - well these are for you! The boots are very comfortable too. I think fashion is very important, but I think you need to be comfortable in what you wear. If you are interested in purchasing a pair of
Avery Boots
they are available directly from the Midnight Velvet website for $109.95.
Midnight Velvet doesn't just offer shoes either. They do offer some amazing shoes, but they also offer some great clothing, accessories, jewelry and more. If you are looking for something that you will look great in they have so many options to choose from. I really had fun browsing the great selection of fashionable items they offer. What item is your favorite?
Giveaway - Enter to win a pair of Black Avery Boots!
Open to US residents 18 yrs of age and older. The giveaway will end on 10/14/12 at 8:59 pm PST. The winner will be chosen via the Rafflecoopter widget. The winner will be contacted by email and will have 48 hours to contact me back to claim their prize. The sponsor is responsible for prize fulfillment. Mommie of 2 is not responsible for lost or unreceived prizes.
I received this item free of charge from Midnight Velvet. No monetary compensation was received or offered, nor was I under any obligation to write about this product. All opinions expressed are my honest thoughts on this product. I am not offering any sales or taking any orders for this item. I will not receive any compensation in connection with any sales of this item.
Sponsors reserves the right to substitute the giveaway product for an item of equal or greater value depending on sizing and inventory
a Rafflecopter giveaway